Forget your iPod … get to know your MPOD
So what is your MPOD and why is it important?
MPOD stands for Macular Pigment Optical Density.
It is a measure of the concentration of the pigments that your body has been able to store in the centre of your macula, called the fovea, at the back of each of each of your eyes.
Low macular pigment is a key risk factor for Age-Related Macular Degeneration, the leading cause of blindness over the age of 50. The reason for this is now known: the macular pigment in the eye absorbs the harmful blue light from the sun, artificial lighting and screens used in computers, tablets and smartphones.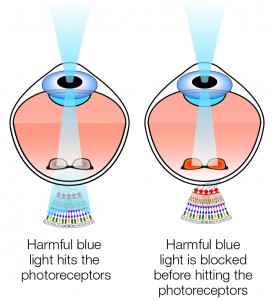 Higher levels of macular pigment in the eyes also improves visual performance, including the ability to see fine detail (e.g. reading, threading a needle), discerning objects from their background (sport and driving), light sensitivity and glare recovery (driving out of a tunnel into sunlight, coping with headlights or floodlights).
Healthy MPOD levels act as "internal sunglasses" which protect the eyes from damage caused by the blue light sources in our environment. Unfortunately, over a third of people over the age of 50 have less than optimal levels of macular pigment, as a result of genetic, dietary and environmental factors.
The good news is that knowing your MPOD early in life can help you to take steps to optimise your levels of macular pigments and reduce your risks of blindness in the future.
At Vision Excellence, we offer measurement of your MPOD as part of our eye health services and can advise you about how to minimise your risk of damage to your central vision.
As part of May Macular Degeneration Awareness we are offering a *Free MPOD check when you book your comprehensive eye health consultation with us this month.
Ask everyone you know … how's your Macula?